- Sign Petition Link – Protect Organic Intergrity! Tell Oregon Officials Not to Let GE Canola in the Willamette Valley
The Oregon Court of Appeals has ordered a temporary halt to the state's plan to allow genetically engineered (GE) canola to be planted in parts of the Willamette Valley, Oregon. The order is in effect until the court rules on a lawsuit filed by opponents of GE canola planting who say it threatens the state's $32 million specialty seed industry. The lawsuit and court order are in response to new rules, not subject to required public comment, that would allow for the planting of GE canola in areas previously deemed off-limits.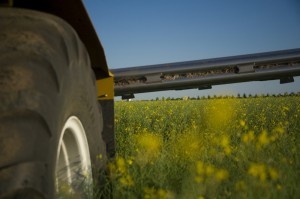 The lawsuit seeking to enjoin the Oregon Department of Agriculture (ODA) from opening to GE canola planting previously protected zones was filed last week in the Oregon Court of Appeals. ODA removed a 2009 rule that banned the planting of all canola on more than 3 million acres in Oregon's Willamette Valley to protect specialty vegetable seed producers who feared contamination by the plant, which cross-pollinates easily. ODA said it would require GE canola and specialty seed producers to report where and what they intend to grow on 1.7 million acres in the restricted zone, all without a public comment period or hearing. GE canola harvest was earmarked for biofuel production. Read Previous Daily News. ODA Director Katy Coba stated in the Department's press release earlier this month, "Since canola has been deregulated by USDA, ODA does not differentiate between conventional and [GE] canola or treat them differently." However, 93% of U.S planted canola crops are genetically modified, and planting GE canola would present a large threat to the integrity of Oregon's internationally recognized organic seed industry.
The Court found sufficient cause to order an immediate halt to planting, subject to further judicial review. This litigation joins a long list of efforts to limit the footprint of many genetically altered crops, which opponents fear are threatening conventional, and organic farm production, as well as increasing weed and pest resistance. Molalla, OR-based Friends of Family Farmers filed the suit with the Center for Food Safety, a national sustainable agriculture organization. Joining them are Oregon specialty seed producers Universal Seed, Wild West Seeds, and Wild Garden Seed.
According to the Center for Food Safety, ODA's improper sanctioning of the planting of canola in the Willamette Valley poses a number of risks to Oregon's farmers, citizens, and the agricultural economy, including potential irreparable destruction of the state's small farms and thriving organic agriculture industry through GE cross-contamination, and the dissemination of resistant weeds, pests, and diseases.
Willamette Valley farmers who grow related plants for seeds to sell to production growers and gardeners fear canola will cross-pollinate with other crops, such as cabbage, broccoli, cauliflower, kale, and turnips, and that could contaminate their seeds they sell. Seed producers said they also fear that because most canola is a genetically modified organism, organic seed producers might be shut out of markets that prohibit GE contamination of any kind. "A number of our domestic and international seed purchasers have already made statements that they will no longer purchase Oregon seeds if more canola comes to the Willamette Valley," said Nick Tichinin, president of Universal Seed Co.
Organic standards do not permit the production of GE crops, and organic seed farmers would be imperiled by ODA's decision to lift restrictions on GE plantings. The National Organic Standards Board, in a unanimous vote this spring, sent a letter to Secretary of Agriculture Tom Vilsack saying, "We see the potential of contamination by genetically engineered crops as a critical issue for organic agricultural producers and the consumers of their products. There are significant costs to organic producers and handlers associated with preventing this contamination and market loss arising from it."
Thousands of people have signed on to petition the move, and critics say they fear contamination of specialty crops with biotech canola that has been genetically altered to withstand Roundup herbicide will contaminate the area. They worry about the creation of resistant weed species and the proliferation of disease and pests. An Oregon State University report indicates that a 1.2 mile distance between canola crops and seed fields is needed to minimize cross-pollination.